Idle time monitoring
System purpose-production process monitoring from these points of view
Production process archiving for subsequent analyses
Comparison of supposed and actual production outputs
Device efficiency and general effectiveness evaluation
Subsequent qualitative production parameters evaluation


Basic system features :
Production data collection through AMS AS3 alphanumeric terminals
Operating staff and serviceman identification through Dallas touch chips
Dead time division in no more than ten basic groups, i.e. breaks, operational technical failures, logistics, servicing, operation, production system, supposed maintenance, regulation etc. with potential code classification from 0 to 999
Production data transfer through network or transmission touch chips
Data and signalization transfer opportunity into the superior system, e.g. supervisor, dispatching, maintenance etc.
Data analysis through AMS company's dead time programme working on XP/7 Windows and MS Office 2003/2007 of current PC
Graphical outputs currently occurring in particular company (Excel)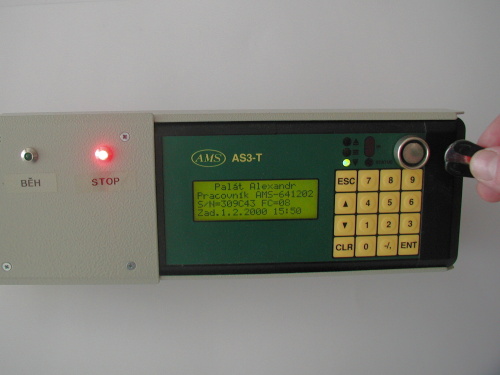 Terminal AS3 - user login by touch memory