Process Materials
Production filling expenditure records mean fully coherent data system of particular production filling expenditure obtained through special ZEBEX PLD-20A portable terminals. They are equipped with laser bar-code scanner, which enables label reading as well as machine, production material and personal identification. The system is verified by longer-range production process in Škoda Auto company.

The system is able to solve the following problems of:
-ineffective planning of particular production filling demand
-operating stock miscalculation risk
-single machine long-term production filling expenditure analysis
-in case of planned value persistence, needed precautionary measures can't be made
-supply manager is limited in flexible decision-making when using allocated financial budget
Pořizování dat
Workers issuing process materials are equipped with portable ZEBEX PLD-20A terminals enabling first-rate identification of every service charge expenditure by following data insertion:
Serviceman personal number -serviceman enters his personal code through the keyboard into the terminal at the beginning of shift
Machine inventory number -serviceman detects it through laser bar-code terminal on the machine
Process material registration number -serviceman detects it through laser bar-code terminal on transport container
Amount of production filling expenditure -serviceman inserts it manually in litres or kilograms after filling expenditure completion
Exchange reason -completion/exchange/accident
Time of expenditure -automatically delivered through terminal after expenditure amount insertion
The ZEBEX collecting terminal is able to store up to 13,000 samples till the data transfer to local collective PC. This is equipped with a special "filling routine" designated for standard PC containing serial channel, Windows XP/Windows 7 operating system and the basic MS Office 2003/2007 set. This routine is based on MS Jet 4 database core enabling data management in MS Access 2000/XP/2003/2007 format, even without the presence of MS Access programme in the computer. "Filling routine" can be run on multiple PCs on shared network database.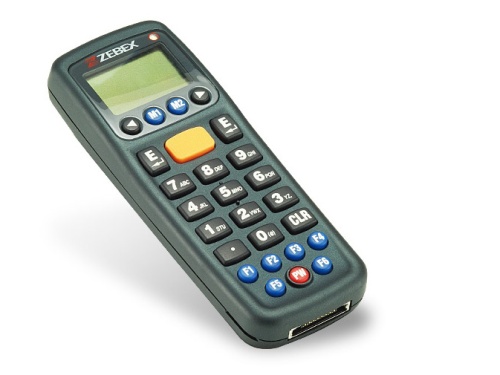 Portable ZEBEX PLD-20A terminal
Date structure
PC "filling routine" enables the introduction of following tables adequately linked among each other.
List of process materials -with current and operational state attributes in connection with all financial movements, i.e. financial expenditures and purchases, expenditure and purchase prices
Machine list -with subordinate table containing the appropriate loader data of all filled places in the machine. There is also list of used production fillings including estimated filling expenditure
Expenditure list -expenditure record of all production process materials
Reception list -registration of all inserted process materials
Output reports
"Filling routine" contains following expenditure reports:
Daily work schedule -planned additions and exchange overview in accordance with addition and exchange limited intervals inserted in machine table
Planned expenditure summary - list of planned process material outgoing for selected time period
Process material outgoing - detailed list of all expenditures made in selected time period
Process materials report -summarized expenditure overview of single process materials in selected time period
Machine report - summarized expenditure overview of process materials for single machine in selected time period
Cost centre report - summarized expenditure overview of process materials for single centres in selected time period