Single- purpose sixteen spindle drilling machine
Single- purpose multispindle drilling machine is operated by PLC based control system.
Piece is clamped manually, drilling cycle is made entirely automatically.
It concerns build-to-order production according to customer requirements.

There is often requirement to solve the problem of hole drilling into mass producted machined pieces.CNC center would often be rather expensive and complicated for given application. Therefore usage of single-purpose cutting machine optimised for given operation is more suitable.
AMS company carries out for example construction and delivery of single multispindle drilling machines adjusted for piece cutting being mass producted. Clamping to mounting device is generally made manually, drilling cycle proceeds totally automatically.

In this case control system is based on efficient industrial computer equipped by graphical display, puss-button panel enabling current machine operating. Sixteen-spindle drilling center supports up to sixteen piece parallel drilling with the same drilling pattern. This fact quarantees very high production increase. Machine execution and price is optimised just for given application.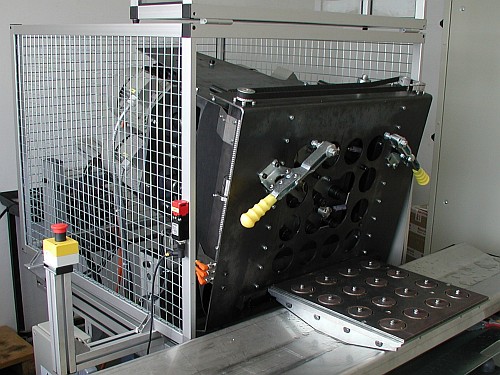 Overall view