Steering pinion geometry control device
Car steering pinion geometry checking device measures :
Involute gearing profile checking in defined geometrical cut
Gear helix angle checking through longitudinal tooth measuring
Pinion body diameter measuring in several places, i.e. on non-geared pinion cylindrical part


The measuring conception and method:

Control measuring is carried out on horizontal semi-automatic measuring stand being controlled by AMS AC4 electronics equipped with a colour monitor.
Piece insertion is manually-operated, measuring probe movement and positioning is semi-automatic. Report printing, result measuring and archiving device is connected to AMS AC4 electronics.

According to achieved measuring results, checked pinions are automatically indicated as flawless, reparable and flawed.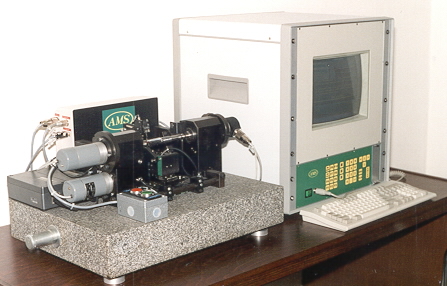 Overall view of the pinion